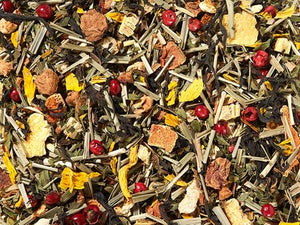 Monarch Tea House
Sweet Mint: Herbal Blend (Peppermint/Lemon/Licorice Root)
Regular price
$2.49
$0.00
Unit price
per
A delicately refreshing cool mint with notes of lemon... you won't even be looking for the sweetener for this blend! 
Ingredients:  peppermint, lemon grass, orange peel, apple pieces, licorice root, mountain blueberry leaves, pink pepper, sunflower blossoms.
3 Sizes available:
4.0 oz (approx.36 - 48 servings) $16.29
1.5 oz (approx. 4 - 6 servings) $6.99
0.3 oz (1 - 2 servings) $2.49
Steeping instructions:
5-10 minutes   203-212 °F    2 - 3 level tsp./8 oz serving
Caffeine Free
*Health Benefits of this blend:
Peppermint: helps with digestive issues, including IBS. The Menthol combats nausea and clears nasal passages. 
Lemongrass: antioxidant, antimicrobial and anti-inflammatory properties, and may promote healthy digestion.
Licorice Root: Soothes stomach issues such as food poising, stomach ulcers and heartburn. Anti-inflammatory and immune-boosting properties. Alleviates throat pain, clears phlegm, and eases cough. In case of high blood pressure, excessive consumption of licorice root should be avoided. 
Blueberry Leaves: Powerful in antioxidants, helps with allergies, type 2 diabetes, blood pressure, chronic fatigue, and female reproductive system. 
---
Share this Product
---